-----------------
2016
November 4
A Perfect Storm

A recent study by the National Association of Realtors (NAR) has concluded that the housing recession of 2007-10 has drastically lengthened the amount of time that home owners expect to stay in their current home. From 1985 until 2008, the length of time a seller had lived in their house held fairly steady: the median current ownership of homes listed for sale was between six and seven years.

Since the Great Recession of 2008 ended, from 2011-15 that figure has hovered between nine and ten years. New owners, when polled, say that they expect to live in their new home for at least fifteen years -- and that higher number has remained steady since 2010.

That's a problem. Because in that same time period new home construction has diminished significantly and a new wave of millennial buyers has begun entering the marketplace. The resulting lack of inventory has put upward pressure on prices for a generation that is carrying the largest student debt load since records have been kept.

On the opposite end of the life cycle, AARP has done research among adults between the ages of 50-64, 71 percent of whom hope to age while living in their current residence. When you ask those 65 and over, that number jumps to 87 percent.

So, just at the time when new home construction is at a low point and the number of first time buyers is increasing, you have a Baby Boom generation who plans on staying in their current home until the end of their lives, and younger sellers who are holding on to their homes longer because of the Great Recession.

If that sounds like a 'perfect storm' for home prices to skyrocket, right at the time when new buyers can't afford it, put on your slicker and batten down the hatches. Its going to be a rough ride. If you're lucky enough to have bought in a popular neighborhood, you will most likely see some substantial appreciation. You'll get the buyers who can afford to buy, and they'll have to pay through the nose to do it. If you're not in one of the chosen few 'hot' locations (remember, its always 'location, location, location'), you may feel like your drifting out at sea.

-----------------
2016
September 11
When Should You Trust the Internet?

For many people, especially in the Millennial Generation, the Internet is the go-to reference for the DIY (Do-It-Yourself) revolution. There are, however, some subjects that are bigger than the Internet can handle, and real estate is one of them. Someone who relies only on the Web can get incorrect, inaccurate, and even illegal-in-Maryland advice and innocently make their lives a complicated mess. So, here's a run-down of common Internet sources of information, and the cautions you might want to implement if you use them.

1. House Listing Websites. The 500-lb. gorilla in this class is Zillow, but there are dozens; their information can be old and incorrect, and their estimates of value have been proven to be wildly inaccurate. Click Zillow's legalese the next time you get one of their estimates and you'll be taken to a page of disclaimer language that tells you just how inaccurate you can expect their figures to be. Also, I've had clients find homes for sale on Zillow that sold two years earlier and were never removed.

This can apply to websites that bear the brand of one of the major brokerages. Some have the habit of leaving a few of their own listings on their website long after being sold which, whether accidentally or intentionally, makes it look as if they have lots of things for sale to tempt the internet buyer.

2. Buying Advice Websites and Blogs. Real estate is a state-by-state operation. For example, agency laws in Maryland are nearly the opposite of what they are in Delaware and Pennsylvania, and the process of buying and settling a house in the mid-Atlantic is very different than it is in New York and New England, and on the West Coast. This patchwork of procedures makes it unlikely that any Internet advice will be useful to a Maryland buyer or seller. Make sure you're reading information specific to Maryland, and that its up-to-date. For instance, Maryland will be changing its agency laws effective October 1, 2016. Nothing on the Web right now is taking those changes into account (even *agents* haven't gotten final word yet on how the changes in law will affect how we do business).

The one way to make sure you get accurate, timely information is to hire a Realtor. Interview the agent first, or get a raving referral from a good friend. If you're not happy with him or her after awhile, fire them and find another. Buying or selling a home is an important life-changing event. You need to have someone assisting you that you can trust and with whom you get along well.

3. Social Media Chat. I recently took part in an exchange on a neighborhood chat board that was debating various real estate related topics. I read a lot of posts from people who had very firm opinions, but who had no clue as to what it took to become licensed as a real estate agent, what other steps had to be taken in order to actually practice, and what the costs of setting up a practice really were. Most did not have any idea as to how the real estate industry has evolved to take care of issues like security, liability, and making sure that the contract most people use is fully legal — short of hiring your own lawyer and hoping that he or she knows enough about real estate law to actually perform the service.

DIY can end up costing you dearly. Why risk it?


-----------------
2016
July 1
The Mid-Term Report

How's the market?

When you're a Realtor, everyone asks that question when we meet. So, here's a mid-year report on our local markets, using data from our Multiple List for May.

Properties in Baltimore City and County have been selling at a breakneck pace. The average number of properties sold over the last five years in the month of May is 642 for the city and 804 for the county. This May the number of properties sold is 803 for the city, and the county clocks in at 969 (125% and 121% of the average, respectively). Similar trends are underway in the surrounding counties in central Maryland.

Inventories of homes for sale have not increased, however. We're currently well within the five year averages when it comes to number of houses on the market. The result of increasing sales and steady inventory means that sellers will generally have shorter listing times, and the 'months of supply', i.e., the number of months it would take to sell every house currently on the market, have dropped significantly over the five year averages: in the city, from 6.4 months down to 5.0. In the county, the five year average is 4.7 months of supply, and currently they are down to 3.5.

How do these numbers translate to everyday experience? We are now in a seller's market. Buyers don't have the leverage they had a couple of years ago to bargain on price and contract terms. This year we have routinely received multiple offers on listings that are priced well, in good condition, and in sought-after locations. Unlike the "bad old days" of the last boom, however, lenders and appraisers today are not allowing the type of price inflation we saw a decade ago. Most predictions have been for a 5-6% price increase in 2016, and I don't think we've seen anything so far this year that would alter that prediction.

I'm expecting that the market numbers for June will drop significantly from May because we've seen a steep decline in showings around mid-month as summer weather arrived and schools let out for the season. That seasonal drop is not unusual and is not a cause for alarm. Great Britain's vote to exit from the European Union, or "Brexit," has not had any effect on our real estate markets so far. Looking forward, the only predicted effect of Brexit is that our mortgage interest rates will continue to be at historically low levels — previous predictions were that the rates would rise through the end of the year.

Rents are not expected to drop, either. So, if you are starting to get hives whenever you write that monthly check to your landlord, it will continue to be a great time to buy. In many cases, mortgage payments will actually be smaller than current rent payments. Start looking this summer, when traffic will be slower and your interest will be more appreciated.


-----------------
2016
June 5
The Road to Ruin

There have been several positive reports on the real estate market to hit the headlines in the last 30 days, showing marked improvement in price and inventory in the national statistics. One news item even calculated that in 2016 the US will surpass the number of existing housing units sold in the previous 'record holding' year of 2006, before the Financial Crisis.

Whenever the news focuses on previous records being broken, there will always be a section of the analytical press that will then question whether or not a downturn is nigh. Because the Housing Crisis was so severe and long-lasting, this chorus of worriers has been especially loud lately.

This frightened mob has forgotten several very important things that ensure we are no where near the type of collapse that we all recently lived through. Since an entire generation of homebuyers also knows nothing more than the boom and bust cycle of the 21st Century, its a good idea to remind everyone why we are not heading to catastrophe. At least not yet.

First: The numbers *should* be breaking records. The Millennial Generation now coming into their peak 'first home' years outnumbers the Baby Boom Generation and will continue to have a just as revolutionary an effect on American society as their forebears as they mature, age, and retire. Many of them were scared away from the housing market by what recently took place, but they could not postpone home ownership forever. As the economy has recovered, regulation has put some sanity back into the lending markets and their lives have progressed, they have realized they could not afford to rent forever, especially at today's rental rates. Record breaking numbers are a *good* thing, because the demographics support it.

Second: The lending markets have — at least for home mortgages — returned to a regulated sanity, perhaps even parsimony! Lenders are tight-fisted, appraisers are terrified of too much equity inflation in home values. New guidelines and government oversight has everyone from the loan officer up to the bank president reacting cautiously to market conditions. Responsible restraint permeates the housing market right now, and that's never going to re-create the pandemonium we experienced a decade ago.

Finally, third: Even buyers themselves have been much less willing to spend whatever it takes to get into their dream home. Yes, we're routinely having multiple offers because of the tight inventory, but these price contests are usually competing in the hundreds of dollars, not the tens of thousands of dollars as they were in 2004 or 2005. Even though we will most likely continue in a strong seller's market, nobody is looking for buyers to start loosening their purse strings, or for banks and appraisers to go along with big price jumps. Our gains will be significant, but modest.

And what about the election? Its true that in a Presidential election season excessive trumpery can make the markets jitter and quake; even some famous conservative businessmen have publicly acknowledged that fact. None of that will be good news for the housing market, because its recovery is still spotty and fragile. Public confidence in the future has to be strong for people to feel good about taking on a 30-year mortgage. So, stay tuned as you go to the beach this summer, or relax on the shores of the lake. The decision you make in November will have an enormous — even 'huuuuge' — impact on the future economy.


-----------------
2016
April 11
A Light or a Train?

One of the barriers that home buyers in our region are facing right now is that we don't have enough houses for sale. We've had a shortage of houses in our selling inventory for several years, and the Maryland Association of Realtors' Housing Statistics for January 2016 show that nearly every jurisdiction in the state has fewer properties in 'inventory' this year than at the same time last year. The problem has been growing.

In fact, housing inventory has been low since the end of the Great Recession. Most analysts have felt the reason fewer homeowners were selling their homes was that the financial crisis reduced property value so much that many people couldn't sell without taking a huge loss. The wave of foreclosure sales and 'short sales' between 2009 and 2014 drove down prices even further. At the peak of that wave, in the first quarter of 2012, 31.4% of homeowners in the US owed more on their house than they could sell it for, the classic definition of being "under water" in your house.

There does seem to be a light at the end of this long tunnel. Last month, Zillow released a study of the housing market, finding that "only" 13.4% of homeowners are still "under water," compared to 16.9% in February 2015. Those rising prices, while a result of the tight inventory, have actually started to promise a cure for the disorder by steadily reducing that percentage.

As more buyers come back into the real estate market, our tight inventory will cause home prices to rise slowly as nice new listings disappear quickly, usually at or over list price. Fewer homeowners will be "under water" as the prices rise more.

So, as this cause-effect spirals outward, growing families can sell their starter home and move into a bigger one. In turn, that allows "empty nesters" to sell the big house and move into something smaller and easier to maintain during their retirement years. That normal cycle of home ownership in the US, which nearly came to a halt five years ago, should continue to strengthen at a faster rate in 2016.

Interest rates have remained very low so far, despite the Federal Reserve's interest rate hikes, because the housing market has been so sluggish, so fragile. If we see significant growth and strengthening of housing activity this year, you can expect those low rates to finally start to rise.

For those of us who labor in the housing sector, this trend is welcome. Its been awhile coming! We're all optimistic that light at the end of the tunnel isn't another train!



-----------------
2016
February 13
The Great Winter Myth

Has someone you consider an expert ever told you that no real estate sells in the first quarter of the year? You know, the advice from the 'expert' that says that you might as well wait until April (in a normal winter) to list your house because it will just sit, cold and neglected, until the springtime sun melts the snow and warms the real estate market.

Balderdash.

This January was a busy month for real estate in the Baltimore region. With the exception of the three or four days that things were shut down for the blizzard, there was a lot of showing and selling going on. If you needed to sell your home and didn't really want to wait until April, you could have had a lot of buyers viewing your property — we *still* have a lack of inventory — and found the buyer that loves your home.

Why is the Winter Myth given so much credence? Its really just a matter of sheer numbers: in the spring, there are lots of new buyers coming out of their winter slumber and a lot of home owners who want to show off their home amidst blooming tulips. There's a lot of looking going on. But the buyers who are out in the snows of January and February are truly committed buyers. They aren't just looking for something to do on a pretty spring afternoon. If you have a home on the market in the winter, if it shows well and is priced fairly, then you *will* have serious buyers make appointments and come see your property. And you will find a buyer.

The biggest challenge comes with the "priced fairly" part of that last paragraph. Usually wintertime is *not* the time of year that new price highs are set for a neighborhood. The fact that there are fewer buyers and less demand in winter will affect the way that value is measured. But a home that is in good condition and priced within the range of previous sales will have no problem.

So, don't be deterred from listing in winter if you need to sell a home. There's still lots of good things that can come in snow shoes!

-----------------
2015
December 16
Interest Rates Rising


The big news in the last few days has been that after nearly 10 years of declining or steady interest rates, the Federal Reserve has begun to raise its Fed Funds rate: the interest rate that it charges other banks. So, if money were a manufactured product, this is the equivalent of the wholesaler raising their prices. While this does not directly affect the consumer, it can cause a chain reaction of rising rates. When the wholesaler raises prices the retailer has to decide what they are going to do, raise the consumer price on the product, or accept a smaller profit margin and keep the price at the same level.

The retailer, in the case of money, is the mortgage lender or the credit card company or the big savings bank. Credit card rates and auto loans are almost certainly going to rise as a result of the Fed's action. Most mortgage lenders are also going to raise their interest rates on home loans, at least for the average and least qualified buyers. There may be some benefit to being a very well qualified buyer for awhile, because you're less of a risk to the lender.

So, if you have been thinking that 2016 might be your year to buy a home, or to sell your smaller home and move into a larger one, your timing is fantastic. Realtors generally expect buyers to react to this kind of interest rate hike by jumping into the housing market. The predictions are that this was the first of two or three more rate hikes we will see in the next twelve months. Its a great time to sell a house, because more buyers will be entering the market, and its a great time to buy a house because inventory will be larger and you'll still have the advantage of very low interest rates, by historical standards.

Contact your real estate professional: homes represented by a Realtor sell faster and for more money than homes sold by their owners alone. Buyers need the experience and guidance of a professional to successfully navigate the maze of rules, laws, and regulations that apply in a housing transaction.

I wish everyone a marvelous holiday season, a safe and peaceful New Year celebration, and I hope that 2016 finds you in the home you love!


-----------------
2015
October 22
Scary Home Issues



Who needs ghosts and goblins? When you're buying or selling a home any of the creature features below can make you scream like you're in the back row of the latest zombie flick. But sometimes just a little rational thinking and good information can put a stake in the heart of these money sucking issues, or keep you from falling in love with the undead in the first place!

Foundations
Whether brick or stone, block or concrete, a home needs a solid foundation to be a good place to live. But what does a solid foundation look like? In homes built before 1950, you're most likely looking at a porous brick or stone mix in the walls and a space that was never intended to be a finished living area. Moisture was intended to pass in and out of the space during the seasons of the year in the form of condensation. (Standing water is ALWAYS an issue, no matter the type of foundation, see below.) In newer homes, be sure to note cracks in the concrete or in the mortar joints between blocks, and look for bowing and other indications that something is pressing on the walls from outside.

If the floor of the crawlspace/basement is dirt, the least expensive way to keep the natural moisture level down is to install a vapor barrier, usually of heavy plastic sheeting, which will lower the humidity in the air closest to the floor joists. You'll also need to have regular pest inspections, because moisture draws the bugs that love to chew on your home's wooden shell.

Pest issues are the other type of foundation issue that can be truly horrifying. Termites and other wood destroying insects are drawn by moisture and food sources and often get into joists and the sill plate of the home. The 'sill' is the first wooden horizontal member that usually sits on the foundation wall, and its from the sill that all your vertical wall supports originate. From the definition, you can see that if there's a serious infestation in the sill or floor joists, you do not have a sturdy home. The standard Maryland Association of Realtors sales contract offers the buyer the opportunity to have a pest inspection, and obligates the seller to repair or replace serious damage deemed a structural hazard. It also obligates the seller to treat active infestations. However, it is the buyer's responsibility to order and pay for the inspection.

Water Issues
If there is an issue with standing water, or basement/crawlspace flooding, first check where the gutters dump the roof water. Many times the water in the basement is coming off of the roof and being dumped too close to the foundation wall, or is going into an old underground drain that has become clogged or has collapsed, backs up and overflows right next to the foundation. Make sure you run all your gutters out several feet away from the foundation, and that the yard is graded so that the water does not flow back toward the house.

Ivy or other climbers, as well as old tree debris, can cause gutters to overflow and the water can sometimes enter into the eaves and do damage to upper floors, or seep into the ground — you guessed it — right next to the foundation wall and enter the basement. Once you've eliminated the possibility of the easy fix, and there's still water in the basement, then you need to call in professional water proofers. You may have a spring or other water source beneath the house. You may have a water line that is leaking. But you definitely have an expensive fix ahead.

Radon Gas
Radon is a radioactive gas found in rock deposits, especially in the older formations in the eastern US. Some areas of the Baltimore region have a higher incidence of Radon than others, but its spotty. One house can have a problem and its neighbor doesn't. Radon has become more of a problem as we have built homes that are more and more airtight, because the gas collects inside and reaches levels that have been deemed dangerous. The effects of Radon are not entirely certain, but most environmental agencies believe that it accounts for a majority of the cases of lung cancer in the US that cannot be attributed directly to cigarette smoking and second-hand smoke exposure.

The good news is that there is a well regarded testing regime that can be used to determine if there is a problem, as well as tested and effective methods of remediation that are not exhaustively expensive.

Mold
Mold is everywhere. Its in the air we breathe, and its in all types of natural building materials. It grows where there is any source of organic nutrient and moisture, and it does not need light. We usually first detect mold either by sight, when ripping open a wall for some kind of repair work, or by smell — when it begins to irritate our respiratory system. However, at the present time, there are no Federal or state guidelines on the best ways to remediate mold, what types of mold need remediation or at what level of mold growth remediation is required. There is no state licensing of mold remediation firms, although the Federal Environmental Protection Agency does offer a certification for mold remediators. Most homes and basements will test positive for low levels of mold, however if air testing is done inside a home there should also be an accompanying outside air test so that you have a baseline level of mold in the local atmosphere from which to judge the levels inside the home.

Mold is probably the scariest of the monsters we deal with in real estate, because of the lack of guidelines and remediation standards. If you think that your home may have a mold issue and you're planning on selling, it might be best to have the testing done and have the professionals go searching for sources of the problem. If its excess water penetration, you've already read about how you can try to solve those issues to keep the mold from getting worse.

With a garlic necklace, a silver bullet, or a wooden stake, you can protect yourself on Halloween from the ghouls and monsters that prowl the night. An experienced real estate agent can also protect you from the scary creatures that can inhabit your house!


-----------------
2015
September 23


Home, Sweet (Big, Smart, Green) Home!
Some of the most frequent comments that modern home buyers have, as we look together at homes built between 1850 and 1950, is how little storage space they contain. It shows in very real terms how our lives differ from those of our ancestors: we have a lot more stuff! More clothes, shoes, etc., and we store them differently. Clothes in most of our homes are not hung on hooks, as they were in ages past, but on hangers in deep closets - some closets are rooms unto themselves. Rooms are generally smaller in homes built in the 1800s and before, with lower ceilings in some cases, to keep them warmer in winter: only in the early 1900s had central heating systems evolved to the point where they could keep a modern style room comfortable.
Just as those homes tell us about our past, recent changes in American society and lifestyle are having a major impact on the homes we build and renovate today. Recent data from the Census Bureau illustrate the point: in 1970 - 45 years ago - nearly 70 percent of adults lived with a married spouse (69.4%). By 2014, that number was barely a majority, having dropped to just under 52 percent (51.7%). Adults who live with a Partner zoomed from .5% of households to 7.3%. The number of adults who live alone has also increased dramatically, from 8.6% in 1970 to 14.3% today. The size of our households in general has decreased markedly. In 1975, the average American household had 2.94 people. In 2004 that number had fallen to 2.57 people.
There is one surprising bit of information in these numbers. Despite all the media coverage of college graduates moving home to live in their parents' basements, the percentage of adults who lived in the parental home has barely budged in the last 45 years, from 10.8% in 1970 to just 11% in 2014.
How have these trends changed the way we live? Well, Americans are craving more privacy and space. For example, the median square footage of new, single-family homes in the United States has grown steadily over the last 30 years, with only a slight interruption in the years immediately after the real estate crash. We've gone from homes of just over 1,700 square feet in 1987 to McMansions of 2,400 square feet in 2013.
Also, take a look at the growth of "en suite" bedrooms - sleeping rooms with adjoining private baths. Our desire for increased privacy has made a major selling point of a bedroom with a private bath; a recognition that there are more unmarried and unrelated adults living in the same household (1.4% in 1970, up to 3.6% in 2014). Forty-one percent of new homes built in 2012 had four or more bedrooms, and ninety-three percent had more than 1.5 baths. According to the Census, the average new home now has more bathrooms than occupants!
How will our homes change in the future? We're starting to see the outlines of a home where technology is built in to just about everything that's installed, from electrical wiring and greater use of co-axial cable or fiber optic communication lines, to wireless transmission. Smart homes and smart appliances will be on the 'Internet of Things' interacting with our smart phones to tell us when the repairman has arrived, when we're being broken into, and when we need another gallon of milk. Homes will most likely be greener, as electricity, heating and cooling will all cost more from traditional power sources. Solar power cells, solar hot water systems, and alternative heating sources, such as geothermal, will become more and more common and more cost effective.
Additionally, I believe that our overloaded transportation systems will require that we redevelop large swaths of the abandoned inner city, either with massive urban renewal projects or a more selective combining of two or more old townhouses into the spacious modern residences our current lifestyle demands.
Whatever happens, our homes will tell our stories to future generations just as effectively as the old homes in our neighborhoods give us a glimpse into daily lives long gone. And there will still be the inevitable question, "can you believe they lived like that?"
-----------------
2015
August 17
This Old, Old House

A recent news item caught my attention because of the effect it is having and will continue to have on homeowners and the real estate market in general: the average age of an owner-occupied house in the United States has risen from 27 years in 1993 to 37 years in 2013. Despite all the new housing that was built in the decade of the housing boom, approximately 65% of owner-occupied dwellings were built before 1980. Forty percent were built before 1970.
This data, from the Federal Department of Housing and Urban Development's latest American Housing Survey, also finds that in Maryland the median age of such housing is between 30 and 39 years.
Thanks to a tepid recovery in the homebuilding sector, we have been building fewer new homes since the housing crash. As a result, we have seen rental markets tighten up because of lack of inventory and rental rates skyrocket, especially along the East Coast. We've also seen more older rentals bought by owner occupants. So, one of the reasons that existing homes will become more valuable over the next few years is that the supply of single family homes will not be growing fast enough to meet the expected demand. You can assume these existing homes will also be less energy efficient, and require more renovation and even enlargement to accommodate the owner-occupants who will be purchasing them and living in them.
This should be a wake-up call to sellers. The time to update and renovate your house is now, before you plan on selling. Why? Most first time homebuyers do not want to buy a fixer-upper. They want what I call the "HGTV WOW" experience!
Tune in to a HGTV show tonight. It doesn't matter whether its "HouseHunters," or a show about investor flipping, homeowner renovation, or about the twin hunky "Property Brothers" (everyone knows the appeal of that show has little to do with real estate). When the prospective buyers or new homeowners walk into the door of their new house, the first word they say is "WOW!" You hear it again in the kitchen and the bathroom. Everything is new, shiny, beautifully decorated and staged. "Oh, WOW."
If you want to impress this generation of house hunters, get a quick contract, even get multiple offers with your home when it goes on the market, you must deliver the HGTV "WOW". If you leave the buyer cold when they walk in, they will start looking for reasons either to dislike the home entirely, or to ding your asking price.
Do your renovations first. Paint. Stage the property. Give 'em the "WOW" they are looking for. There's no substitute for it in real estate today.
-----------------
2015
July 20
Revising the Revisions

The big news in Real Estate this summer has very little to do with houses, or land; nothing to do with interest rates or inventory. Upcoming changes in the industry are about to come online that will have a huge impact on the way that the consumer is educated and informed by their lender, with the goal of a creating a less confusing transaction. By October of this year every document that we've been using in the financial part of the home buying transaction will be replaced with new, easy to read, and completely consistent documents.
Most of the current financial documents and disclosures that buyers see in the home buying process were first developed at least 30 years ago. Although there were some major revisions made five years ago in the aftermath of the housing crash, these documents were designed primarily for the convenience of the banks and title companies involved in the mortgage financing and closing process. They are not consistent, nor transparent, in the way they present crucial information about the home purchase. Clarity for the consumer was not a priority.
The new Consumer Financial Protection Bureau (CFPB), created three and a half years ago as part of the implementation of the Dodd-Frank Wall Street Reform and Consumer Protection Act of 2010, quickly focused on this lack of clarity in the mortgage application and approval process, and on inconsistencies in practices between major lenders. Its the CFPB's job to regulate the financial industry, but by making the consumer's interests and protection its primary responsibility. Buying a home is the largest financial transaction most Americans will undertake in their lives, and its where many people were victimized by unscrupulous actors in the boom years from 2002-6, and then again from a new crop of abuser in the bust years after 2007.
There are mixed opinions on whether or not these new documents will succeed in making this complicated transaction easier for the average buyer to understand. I happen to believe they will. But one thing everyone is agreed upon is that the new regulations that accompany these document changes have a good chance of prolonging any home purchase that is financed through a lending institution. Our current 'gold' standard is a 30 day period from contract ratification to settlement. That's going to be much harder after these reforms go into effect. Most settlements will require a minimum of 45 days, or six weeks. Buyers need to keep this change in mind as they think about the timing of their home search and purchase. Although you might not get into your new home as quickly as you thought, you may understand the transaction better then before. We'll have to wait and see if the general public thinks there is value in that.
-----------------
2015
June 19
Charting a Foggy Future
For many years it has been a well-accepted social truth that real estate was the best, most commonly followed route to building personal and family wealth. Before it crashed, last decade's real estate boom caused public preference for real estate over other forms of investment skyrocketing to 50%, according to the Gallup poll. In the immediate aftermath of the financial crisis, those sky-high preferences had crashed to 37% and falling. The percentages have continued to fall ever since.
In the most recent Gallup poll on the subject, conducted in April of 2015, the preference rates for real estate over other forms of investment are hovering - depending upon age and income - from the high 20s to the mid-30s.
(see chart below) The only real good news is that in most categories, real estate still beats other investments, including stocks, gold, bonds and savings accounts. But the gap is narrowing.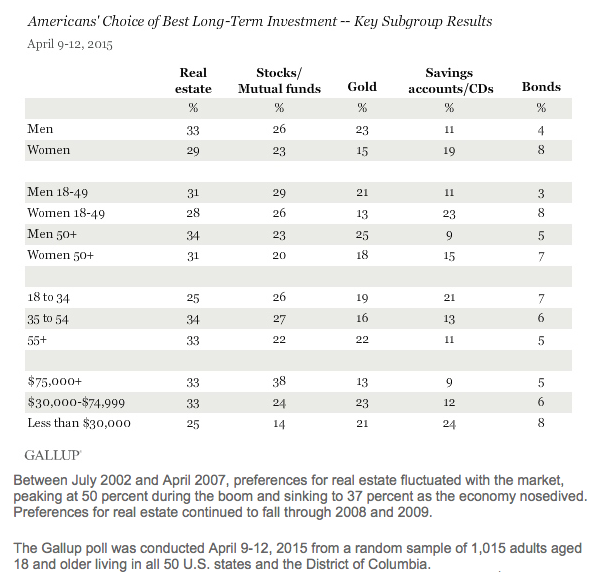 Its easy to see why. There's a generation of young people whose only real memory is of the last twenty years of frenzied real estate boom and disastrous real estate bust. And it just so happens that this generation of young people is coming out of college with unprecedented student loan debt, and stubborn unemployment. As a whole, they are stingy when it comes to their purchases. I've been involved in several multi-contract deals this year and, unlike past markets, the buyers resisted the temptation to inflate the price of the houses. None of the successful contracts were for more than $100 over list price.

So is real estate doomed to sink lower in public esteem? Not necessarily. This generation is also seeing some of the highest rental rates for investor-owned housing. Construction of new homes and new apartments is at record lows, and thanks to continuing low interest rates and rising rents, it is now much cheaper to buy a home in all major US cities than it is to rent one. If a buyer is able to put aside just a few dollars a month from their otherwise crushing schedule of debt payments, FHA loan programs, grants and low interest rates make buying an attractive alternative to renting, even if they are among those who have a more skeptical view of owning real estate.

There are many contradicting indicators that fog up the future of real estate as an investment. In the end, state and Federal actions could be the pivotal deciding factors, so its going to be of increasing importance for homeowners to stay engaged with what our lawmakers do. Real estate has been a reliable way for average people to build wealth for retirement and for a legacy to bequeath to their heirs. If its going to stay that way, everyone who owns their home will have to be paying attention to policies in Annapolis and Washington and making sure we clear away the confusion so the fog will lift.
-----------------
2015
May 15

Baltimore, In Shades of Gray
The events in Baltimore City over the last four weeks made writing about real estate difficult, because the unrest reminds everyone in this business that in no other economic area are the differences between wealth and poverty as stark as in real estate. There are huge swaths of the east and west sides of Baltimore where massive hulking wrecks of what were once spacious elegant homes are vacant, boarded up and, in some cases, falling in on themselves.
What does a city do when its population declines by 400,000 people? How does it handle the exodus of wealth, the drop in tax revenue, the increase in poverty, the loss of middle class jobs that accompanies such a decline?
Baltimore, faced by a situation where there were no proven solutions, chose to renovate its old industrial harbor and make it a gleaming showcase that would rehabilitate the city's image, make it a tourist destination and lure businesses back to the central city. This approach, it was hoped, would spread out from downtown, and give economic hope and prosperity back to the neighborhoods. For awhile it seemed to be working, but too slowly. Waterfront areas and neighborhoods near educational and cultural assets were able to successfully hold their own and even come back from the depths of neglect. Get farther away from the longstanding areas of economic health and you found yourself in a totally different world, where people had no transportation, no way to earn a living, and where hope was fading.
Efforts to push the good fortune further out into the brick forests of the east and west sides, with names like "Vacants to Value," "Project 5000," or SCOPE ("Selling City Owned Property Efficiently"), were small scale and just were not able to move fast enough or have enough capital behind them to tackle the problems of Baltimore in any effective way. The legal system had difficulty qualifying abandoned property for city takeover at speeds faster than a crawl. Baltimore's government real estate office had too many bureaucrats, rules and traditions for anyone to cut through them efficiently and make things happen, both for the individual renovator or homeowner and for the large commercial real estate developer who had bigger ideas for entire blocks of buildings.
Its time for true reform in the ways this city taxes its property, regulates its property, and controls the property it owns. This will require a great deal of cooperation with Annapolis to cut through some of the red tape and make it easier to condemn and take abandoned properties by eminent domain, while at the same time reducing the barriers to the resale and redevelopment of such properties -- especially in the commerce-hungry communities of the east and west sides. Reliable and safe public transportation needs to become a priority, so that all residents in the city can have access to the jobs and economic centers that might help them improve their lives.
There will need to be an overhaul of a tax system that rewards property owners for boarding up and holding on to dilapidated properties by lowering their tax bills to insignificance, while punishing with huge tax increases the long-time owner-occupants who want to stay in the city when its time to either upsize or downsize their living spaces. Large downtown developments should no longer be able to command enormous, decades-long tax abatements that rob the city of revenue in the areas where its economy is thriving and starve the areas that need government reinvestment to barely get by.
None of this will be easy or immediate. But how can we, nearly fifty years out from the riots of 1968, argue that the time has not come?

-----------------
2015
March 17
Practical, Political, Common Sense

In over ten years of writing this blog and newspaper column, I have never before dedicated it to talking about one person. Until today.

Let me take you back to Baltimore of the 1950s and 60s. Pratt Street ran beside a harbor lined with warehouses and decaying commercial buildings left over from the city's seafaring past. Banana imports and spice manufacturing caused the air to be intensely fragrant, and not always pleasantly so. Fells Point was a seedy neighborhood by most descriptions, with the dilapidated remnants of colonial era buildings. Canton still hummed to the rhythm of the steel mill and shipyard, but the heyday of those industries was passing. Baltimore was losing population rapidly to the suburbs, and the building of the Interstate System was draining the city of much needed commerce.

Then well meaning city planners came up with the idea of bulldozing this "blight" and putting in major highways to speed traffic through, and out of, downtown. Gwynns Falls Park was barely saved, but not before West Baltimore was gutted by our "highway to nowhere." And then Interstate 95 was proposed to cut through downtown, over the Camden Yard rails, through Otterbein and in between Pratt Street and the water. Interstate 83 would join up with it at a massive waterfront interchange before 95 continued eastward through the Fells Point and Canton waterfronts. This was urban renewal. This was transportation progress.

This "progress" would have destroyed the city. Neighborhood activists rallied to fight it, and one physically diminutive woman with gigantic energy and vision rose to lead it. Barbara Mikulski, more than any other Baltimore figure, created the modern city. William Donald Shaefer would not have been able to champion Harborplace if there was an elevated highway over it. No National Aquarium. No Science Center. No condo buildings and nightlife on Pratt Street or Key Highway. No "dollar houses" in Otterbein. Fells Point would never have been able to develop with a rusting, unsightly ELL blocking its views. Harbor East would have remained a vacant wasteland covered by ramps and empty, trash-filled lots.

Baltimore real estate, without the waterfront "holy trinity" of Fells Point, Canton and Federal Hill would not resemble the marketplace we know of today. Rarely can one person's accomplishments be documented so well in brick and stone, but that is the legacy that Barbara Mikulski gave Baltimore. But her legacy does not stop at the waterfront. She also championed programs in the 1990s that demolished old failed housing projects and replaced them with mixed income developments, bringing new life back to other city neighborhoods. Drive up Fayette Street to Hopkins Hospital, or through the restored street plan of Corned Beef Row, off of Lombard Street, or around the northern end of Martin Luther King Boulevard if you want to see the lasting results of these programs.

Thank you, Senator, for remaking Baltimore, and unleashing enormous private and public capital to make her neighborhoods thrive again. We have a lot of work to do, but you have left us enormous resources with which to complete that work. Ya done good, hon.



-----------------


2015


February 19

The Dark Side of Going Solar


Everyone loves the idea of going solar! Nothing says 'green,' hi-tech, earth-loving or just downright 'cool' like having those sleek panels perched on your rooftop absorbing the sun's free energy that pours down on our heads every day, and converting it into the electricity we use in ever-increasing amounts. The prices of the photo voltaic cells -- which actually do the hard work of converting the sunshine into power -- are getting lower and lower each year. There are now dozens of solar energy companies in Maryland doing their best to tempt you to take the plunge. So, what do you need to know? First, not every home is suitable for the installation of solar panels. According to the Maryland Clean Energy Center (www.mdcleanenergy.org), you home needs to meet several criteria: a roof with its main exposure to the east, west or south, a large area without dormers or other architectural impediments to the installation of a set of panels, and at least 4-8 hours of direct sunlight year round. Plus, your personal electrical usage needs to justify the size of installation you're considering. There are three types of solar panel systems:On-Grid Battery Systems. These are connected to the main electricity grid and also store excess energy in batteries to use at night or on cloudy days;
On-Grid Systems without batteries. These are the most simple to set up and are easier to install, but if the power goes out in the neighborhood, the system will shut down; and
Off-Grid Systems. These are not tied to the electricity grid and generate all their power independently.
At the current moment, solar power accounts for three-tenths of one percent of the total energy consumed in the U.S. (www.instituteforenergyresearch.org). Everyone expects that to grow rapidly over the next decade. The main barrier to this growth is how to pay for this technological advancement. A complete solar system costs about $12 per watt, installed. That means the average system for a residential dwelling will cost anywhere between $20,000 and $50,000. There are Federal, State and Local exemptions and credits that can be used to offset this expense, including a 30% credit against your Federal income tax, Maryland's Clean Energy Production Tax Credit, Maryland's Renewable Portfolio Standard, and funding from the state of up to $10,000 for residential systems up to 20 kilowatts. Please visit www.mdcleanenergy.org/solar for more detailed descriptions of these incentives. Obviously, you need to own your home to be able to do this. Even with tax credits and other reimbursements, it's a very expensive proposition. So, many of these installation companies offer leases, lease to own, or extended payment plans to help people afford this installation. And here's where the problems can arise: If you don't plan on staying in your home for at least a decade after installing a solar system, you could be setting yourself up for a major financial disaster when you sell.

Here's an example: In a recent transaction in Central Maryland, a house listed for sale had a two-year old solar system that was leased to the homeowner. The new buyer qualified easily for the mortgage to buy the home, but the energy company who held the lease rejected the buyer's application to take over the remainder of the 18-year lease on the solar panels. If the owner wanted to sell the house to this buyer, he could pay over $22,000 to buy out the lease and have the panels removed, or pay $18,000 to buy out the lease and leave the panels intact. He chose the latter option. Let me emphasize, this $18,000 payment did NOT buy the panels. The panels still remained the property of the solar company that installed them. The $18,000 only bought out in advance the remaining 18 years of the lease. Whoever owns the house in 18 years will still have to negotiate with the solar company, either to renew the lease, buy the system outright (and assume the cost of maintaining it), or pay to have the system removed. Solar installations are great; they are motivated by only the best intentions. But think through the future consequences before you jump, and discuss them with the representative of the company you are interviewing to do the installation and maintenance. Compare the cost savings over time to the cost of the agreement in both the short term and the long term, because you never know when you might need to sell your house. The legal requirements of your agreement with the solar installer could significantly change the transaction to sell your property when that time comes, and require you to bring money to the table instead of leaving with a check in your pocket.


-----------------


2015


January 18
What Maryland Homeowners Should Know

Each year the rules and regulations that affect Maryland homeowners grow and make owning, repairing and selling your home just a bit more difficult. Each legislative session tends to expand these regulations and requirements, as well as penalties for non-compliance, while the Internet makes it easier for authorities and potential buyers to find out about any non-compliance. So, if you're thinking about putting your house on the market this year, here are some things you need to keep in mind -- especially if you plan on doing any repairs or upgrades to make your home more attractive and raise its sale price.

1. The old-fashioned 'handyman' is a dinosaur. Not so long ago it was possible, and sometimes even preferable, to go to that dependable person in the neighborhood for minor repairs like fixing a set of steps or a bannister, hanging doors, fixing a leaky drain, or caulking a skylight. Maryland has explicitly discouraged that kind of 'jack-of-all-trades,' and has made being one or hiring one a violation. Unless you're capable of handling the repair yourself, as the homeowner, the only person you should hire to do it for you is a licensed tradesman.

2. The line between repairs that do and do not require a building permit is hazy. Even the licensed contractors who deal with this question regularly disagree over what does and does not need to go through the process of applying for and receiving a building permit. Some of this confusion has to come from uneven and conflicting enforcement of the code by local government inspectors. This is especially troublesome because buyers and buyer agents are becoming aware of the fact that they can search local jurisdictions' Internet databases of building permits issued for any address in order to see whether the new improvements to a house were done under a permit. Even if licensed contractors were used, the lack of a permit has gained the implication of the possibility of building code infractions, "corners cut," and dangerous situations hiding beneath the wallboard. Because of this potential liability, more and more Realtors will be asking you if certain improvements were permitted as part of the process of listing your home.

3. Even that fresh coat of paint can be suspect. Painting contractors have become subject to regulations that if extensive scraping is required before painting that they be certified to handle lead based paint hazards in their surface preparations. So be prepared to accept finished paint jobs that have a bit more roughness and the outline of older layers of paint visible, because the painting contractor was not lead-paint certified. This also means that if you're a homeowner, you need to have that paint job done earlier or be willing to pay more for the lead certified professional who can extensively scrape and prep the surfaces to be painted.

The old Boy Scout motto, "Be Prepared," now applies to getting your house ready to go on the market. The obligations on homeowners continues to grow, and real estate agents are in the position of informing them of this increased burden before listing. Look to the new session in Annapolis to add even more regulation to this growing movement!